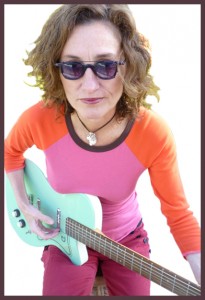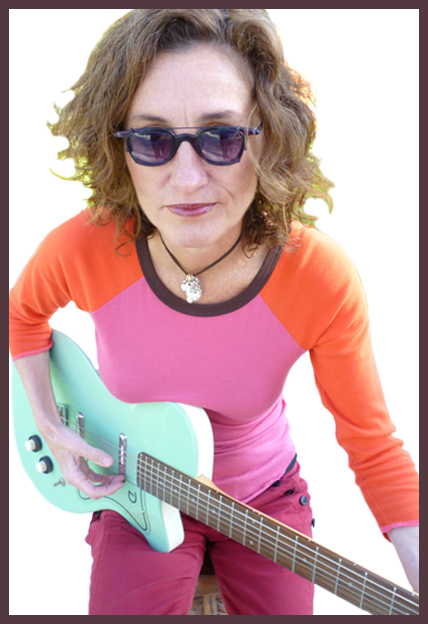 Kelley Ryan on why she titled her new album Telescope: "The dictionary describes a telescope as 'an optical instrument designed to make distant objects appear nearer, containing an arrangement of lenses or curved mirrors, by which rays of light are collected and focused and the resulting image magnified.' I think that's a pretty good metaphor for writing songs. Also, I just like the way the word sounds."
For more than 20 years, the effervescent singer, songwriter, multi-instrumentalist and inveterate studio rat has been making distinctive, infectious and wholly original music. Initially recording under the moniker of astroPuppees and subsequently working under her own name, Ryan has released eight highly accomplished albums that combine sterling melodic songcraft with sharp, grown-up lyrical insight.
Operating just under mainstream radar and earning a devoted following of discriminating listeners, Ryan has quietly built a formidable body of work that marks her as an artist to be reckoned with. She's also earned a reputation as a songwriter's songwriter, celebrated by critics and acclaimed by her peers.
Ryan's seasoned skills are typically impressive on Telescope, whose ten original tunes showcase her smart, effortlessly accessible melodic sensibility and her knack for inventive, ear-pleasing arrangements. Such catchy, heart-tugging originals as "The Darkest Stars," "Cigarette," "Save Me," "Pulling For Romeo" and "Passing Through" (the latter co-written with Marshall Crenshaw) are firmly rooted in classic pop tradition, while exploring sophisticated, emotionally complex lyrical territory.
Telescope is the product of Ryan's ongoing recording experiments in her dual home studios in Palm Springs, California and Cork, Ireland. "I have a little studio in each place, and that's pretty much where I spend all of my time," she explains. "I go into my studio every day, whether I have an idea or not, and I just work away until I come up with something. I'm constantly writing song snippets, melodies, words, constructing loops and pads—way more than I end up using. It takes a little longer because a lot of my equipment is really dated, but I use that extra time to experiment and try different things."
"For Telescope, I spent two years collecting and assembling songs that reflect the world through my eyes," she continues. "I spent a long, cool Irish summer sifting through these songs, adding and subtracting sounds to make each lyric 'pop' as much as possible. I work very hard at making it sound simple, but hopefully still keeping it sounding interesting. I think that these songs work together and make a nice little respite from the crazy static going on in the world right now. I welcome that right now and I hope that other people will welcome it too."
Although Ryan plays most of Telescope's instruments herself, the album also features key contributions from longtime friends and frequent collaborators Don Dixon and Marti Jones, whose easy creative rapport with Ryan adds immensely to the album's musical chemistry.
"They're on my last two records, and I'm on their last few records," says Ryan. "I've been working with them and (drummer/percussionist) Jim Brock for years now, and we've developed a pretty comfortable working relationship. On Telescope, Dixon plays bass on all but one of the tracks, and he arranged and recorded all the string parts and added his signature arsenal of pops and whistles and toy piano sounds here and there. "We bounce things off of each other, building sounds to select and comb through. And Marti and I do much the same thing vocally."
Kelley Ryan has maintained a staunch fidelity to her creative muse since she first began recording under the playful nom de disc astroPuppees. Under that name, she released five albums: You Win the Bride and Pet, both on the Hightone label, and three more, Little Chick Tsunami, Sugar Beat and Lost Valentines, on her own Manatee imprint. Although these were basically Ryan solo efforts, they also featured instrumental and/or co-writing contributions from Dixon and Jones, as well as Marshall Crenshaw, Rachel Haden (That Dog), Jesse Valenzuela (Gin Blossoms) and Bill DeMain (Swan Dive).
In 2010, Ryan decided to shed the astroPuppees banner and released her next album, Twist (co-produced with Dixon and featuring Jones and Brock in supporting roles), under her own name. The album signaled a step into more personal, introspective lyrical territory, and featured string arrangements by the legendary Van Dyke Parks. She worked again with Dixon, Jones and Brock on 2012's Cocktails, and subsequently reteamed with them to co-produce and co-write Marti Jones' bossa nova-flavored album You're Not the Bossa Me, as well as joining with Dixon and Jones for a series of rare live dates.
Along the way, Ryan has also lent her talents to a variety of side-projects in various media. She's written material for artists from around the world, and her songs have been featured in such TV shows as Felicity, Roswell, The Class, MTV's Road Rules and the long-running soap opera Another World, as well as the films Trojan War, Colin Fitz, All of It, Man Hunt and Friends 'Til the End. She's also recorded tracks for several various-artists collections, including the Christmas compilation Yuletunes and the tribute discs Shoe Fetish: A Tribute to Shoes, Beyond Belief: A Tribute to Elvis Costello and The Del Shannon Tribute: Songwriter Vol. 1.
"Maybe I'm not the best vocalist or guitarist on the planet," Ryan states, "but I can do everything a little bit, and I do consider myself a songwriter and record-maker, and I take that pretty seriously. I'm super-proud of this record. It's real simple and real subtle, and people seem to like it.
"Maybe I wanted to conquer the world when I was 19, but what I care about now is being able to make music I like, and I'm doing that," she concludes. "My main motivation is always just to go back in and make another record. And if every time I put a new one out, if a few more people know about it, then I'm happy and feel like I'm making progress. What I most care about is creating. It's all about the songs."
###
Media contact:
Wendy Brynford-Jones
wendy@hellowendy.com
818-762-7063